Hello! My name is Jamie Coe and I live in Scottsdale, Arizona with my 4 Bouviers and a German Shepard.
I started out with the Bouvier breed in the early 1990's and I have never looked back! I love this awesome breed! Of course, my family soon shared my love for "Muttly" and soon they found themselves with a Bouvier as members of the family, my mom had 2 and my daughter got 1.
I vigorously examine all the pedigrees for all my dogs and all dogs are analyzed prior to breeding so we have the assurance of having healthy puppies. All of our dogs are health tested before breeding ... OFA on hips, elbows, eyes, heart and thyroid.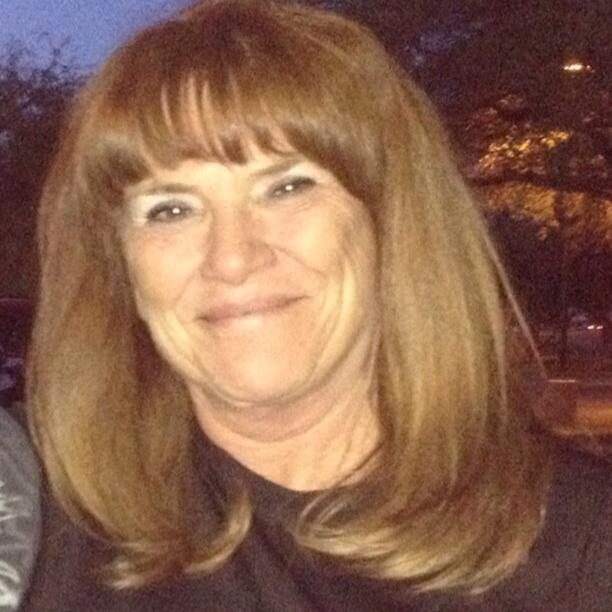 We have a household of dogs for sure!! Reggie, Duchess, Onnie, Skye and our German Shephard Rosie who loves puppy sitting!!
Our puppies are raised in our home and are well socialized, they spend time with my grandkids, other animals in the house, as well as the normal sounds that come with a busy family household — before they leave for their forever homes.
We offer cropped or natural ears as well as docked or natural tails on request. Our goal is to produce the highest quality Bouviers possible concentrating on health, temperament and structure. Thank you for your interest visit the puppy page to see some of our adorable puppies!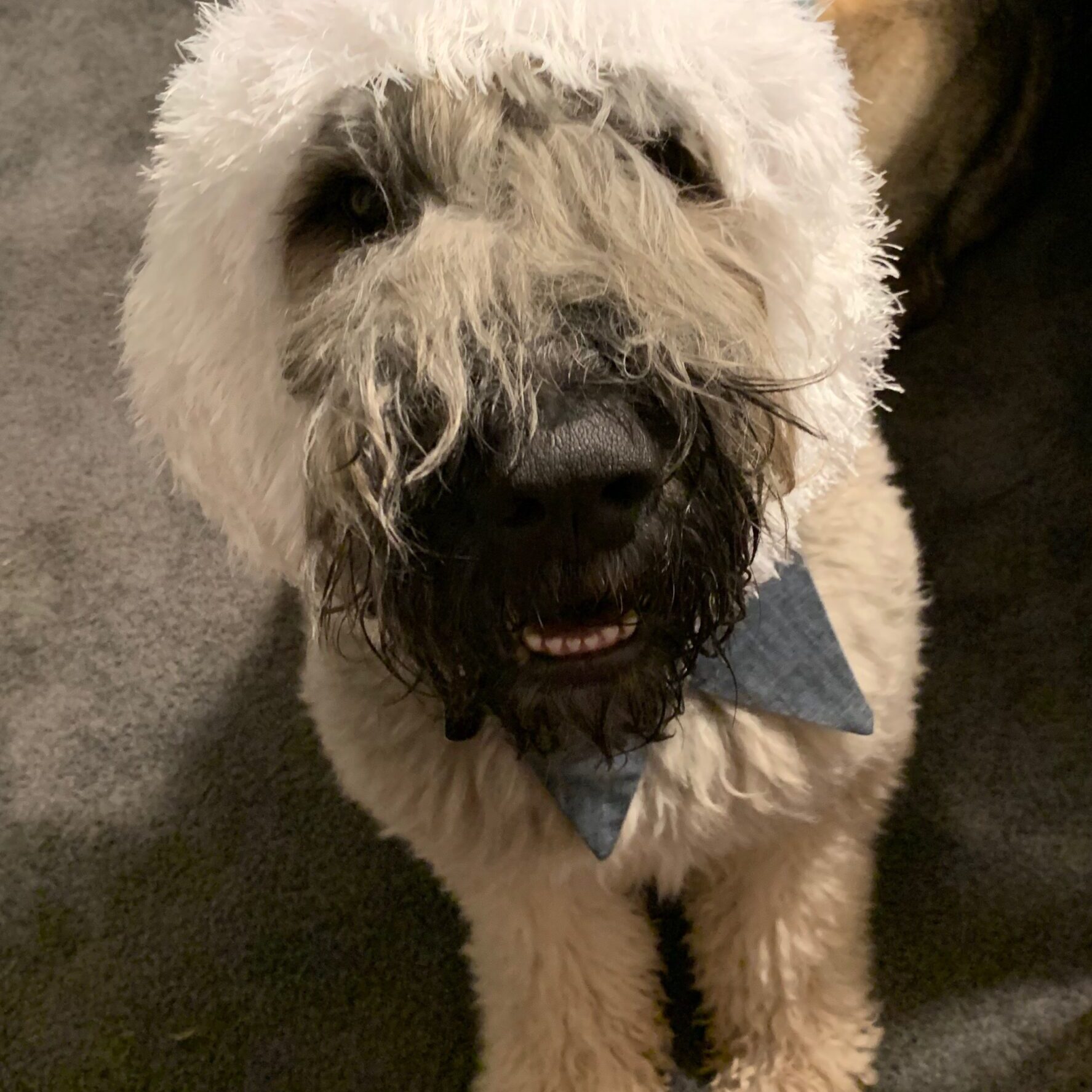 Bajorons Super Turbocharger aka Reggie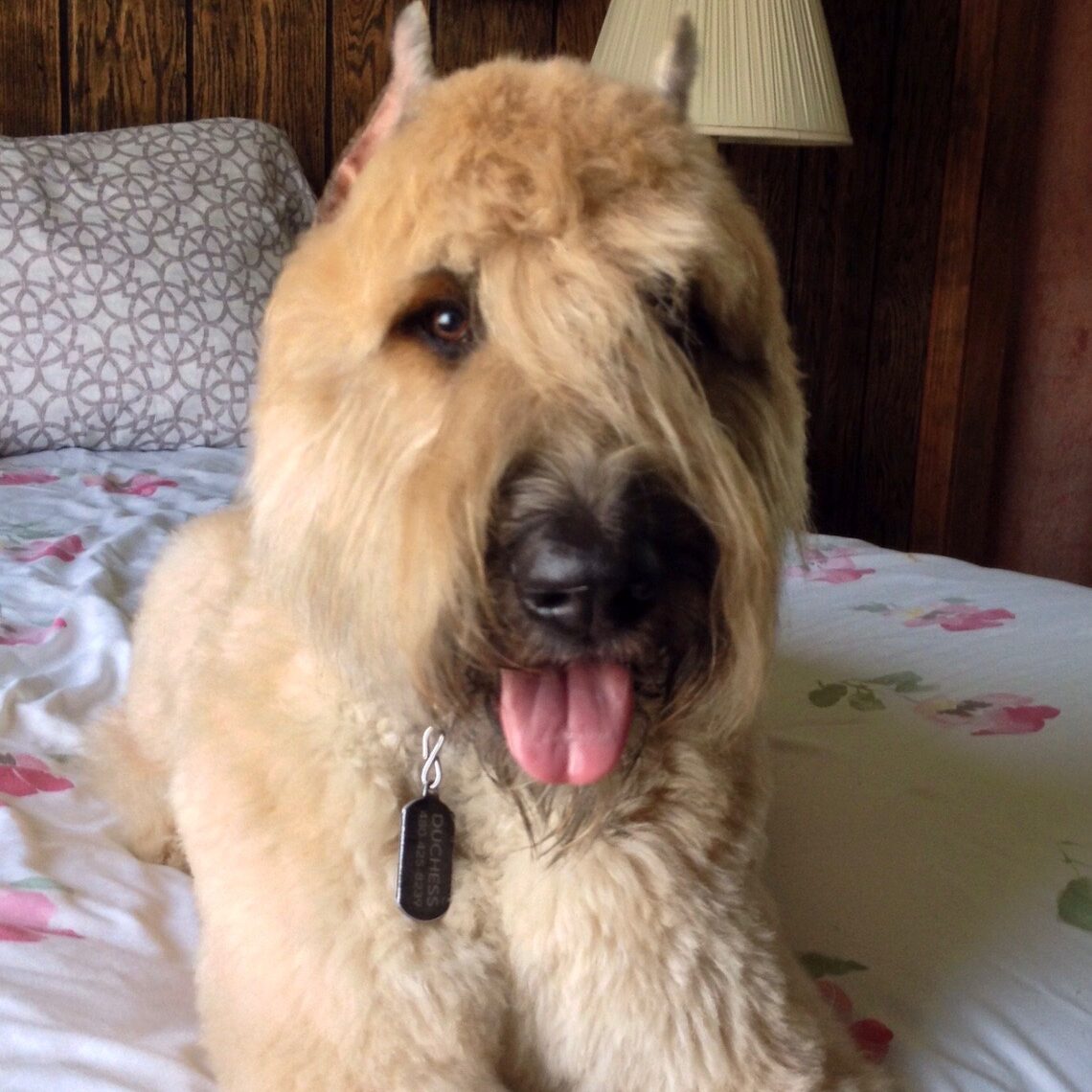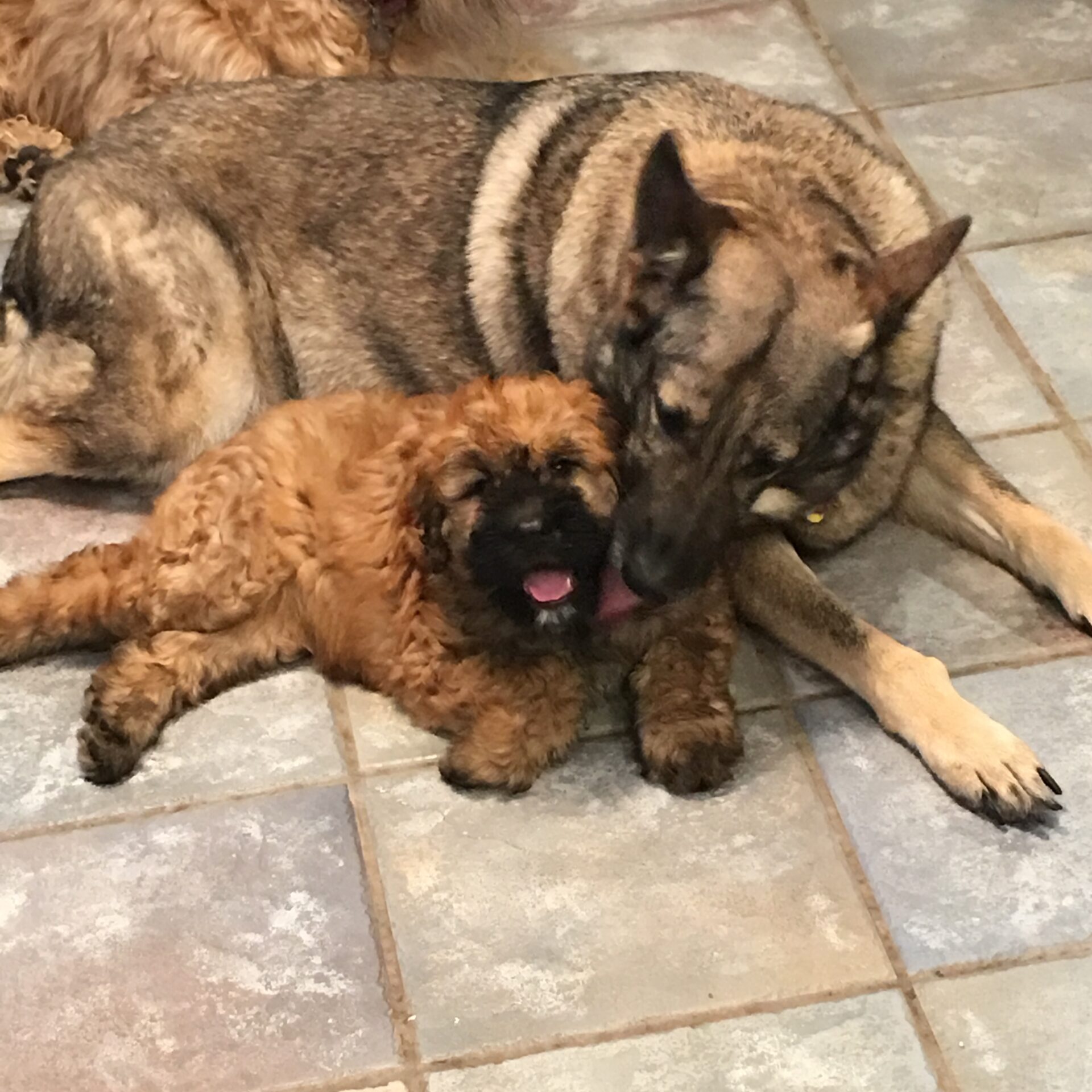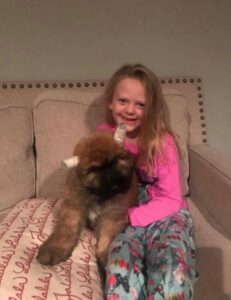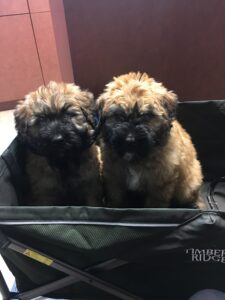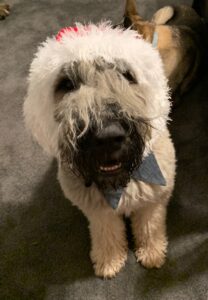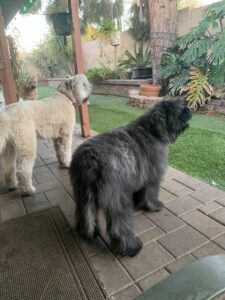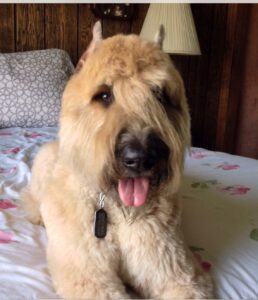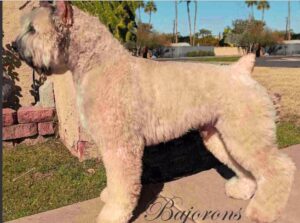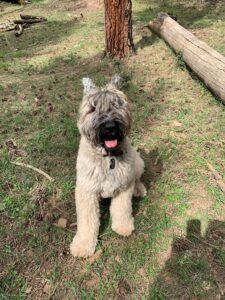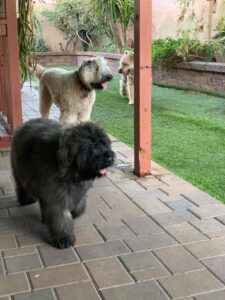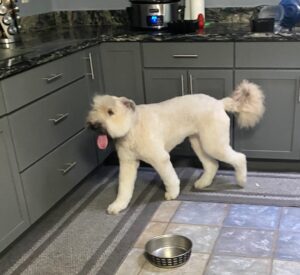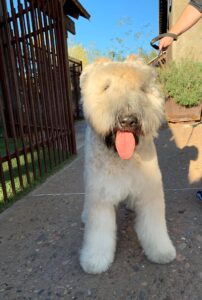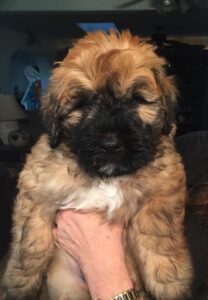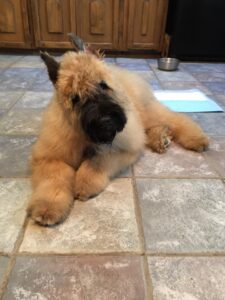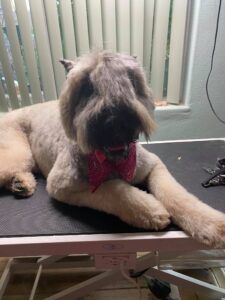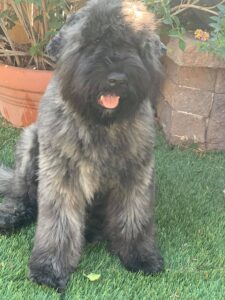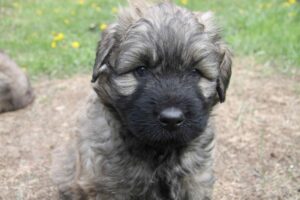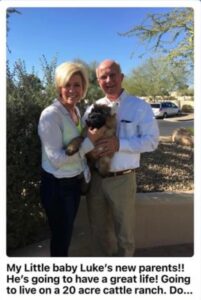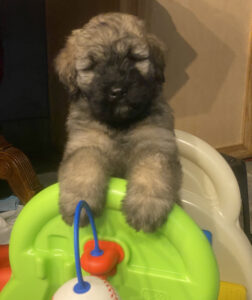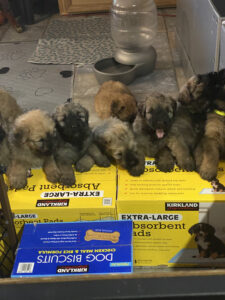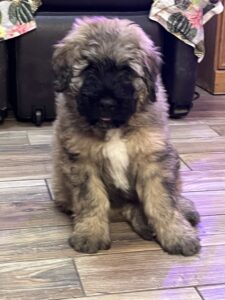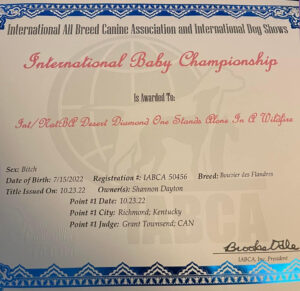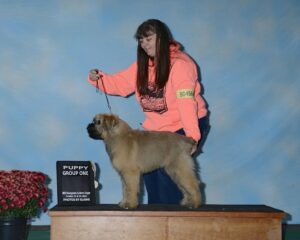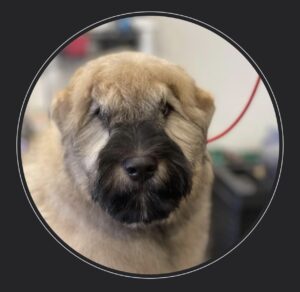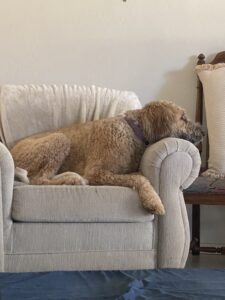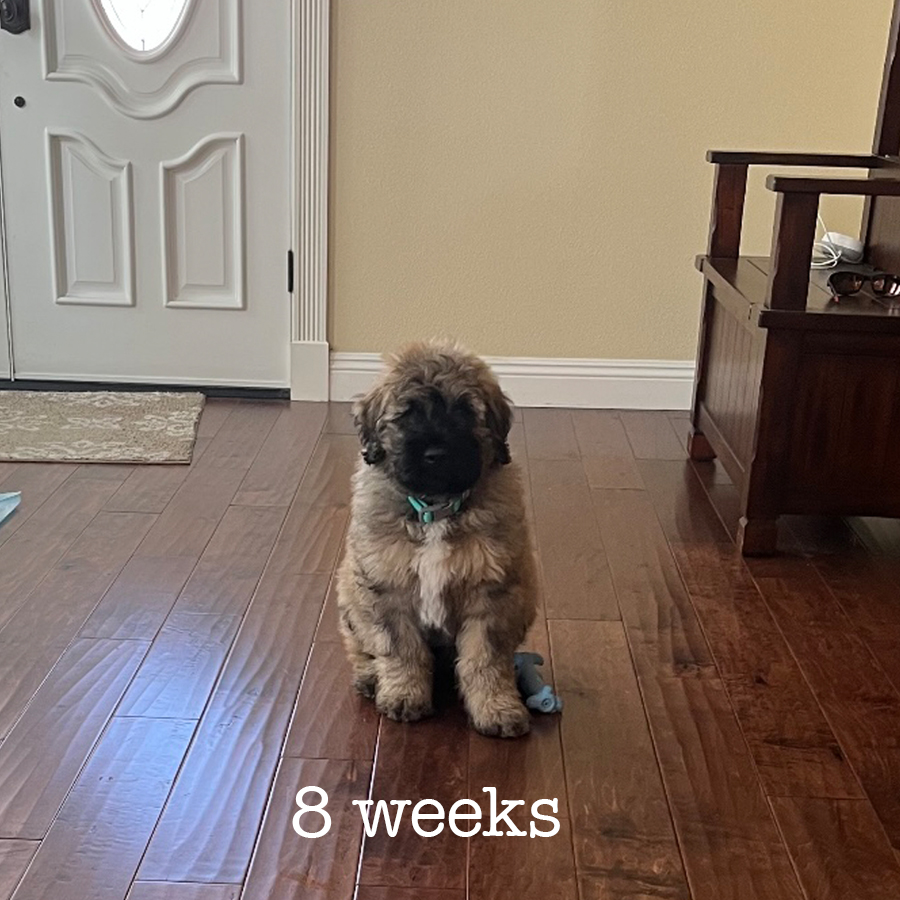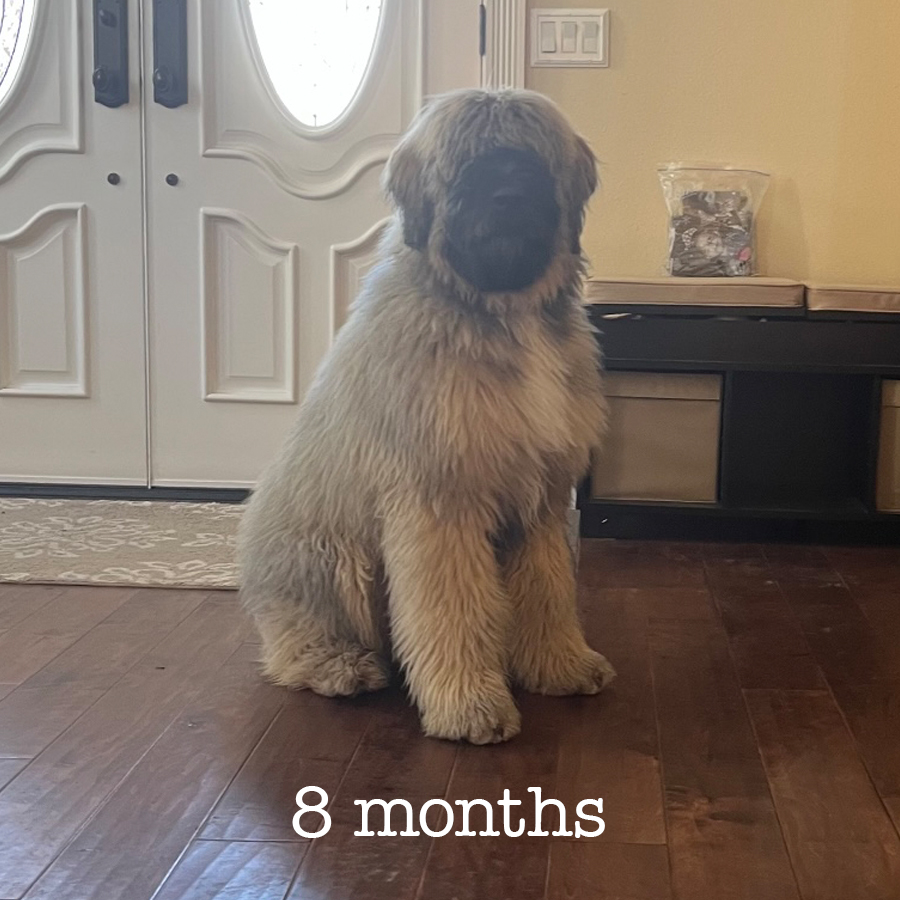 The Bouvier should do well on a high-quality dog food, whether commercially manufactured or home-prepared with your veterinarian's supervision and approval. Any diet should be appropriate to the dog's age (puppy, adult, or senior), and the Bouvier requires a diet lower in protein than most other breeds. Some dogs are prone to getting overweight, so watch your dog's calorie consumption and weight level. Treats can be an important aid in training, but giving too many can cause obesity. Learn about which human foods are safe for dogs, and which are not. Check with your vet if you have any concerns about your dog's weight or diet. Clean, fresh water should be available at all times.
The Bouvier's coat needs brushing once or twice a week. A good slicker brush or pin brush and large comb will work for this. The beard may need cleaning at the same time, and the dog's toenails should be trimmed every week or two.
The Bouvier was bred to do everything that needs doing in a barnyard and pasture except milk the cows. They are happiest when they stay busy. A bored Bouvier can be a very destructive one. They are an excellent fit for an active household with an owner who hikes or jogs or even bikes. The Bouvier needs a large, enclosed exercise area where he can romp and play, preferably with other dogs or kids who will keep him in good condition both mentally and physically. Heavy exercise should be limited while he is a growing puppy.
The Bouvier is happiest when he has a job to do, whether that job is babysitting, herding, obedience, or guard dog or rescue work. Bouviers are easily trained to do almost any type of dog sport or activity, and they usually excel at it. They have a strong prey drive so should be well socialized from the start. They are consummate showmen and enjoy working or competing with their owner at their side. Extremely eager to please, once they know what you want them to do, they will do their best to satisfy you. This breed is well suited for search and rescue work and adapts to the training easily.
Bouviers are generally healthy dogs, and responsible breeders will screen their dogs for health conditions. 
Recommended Health Tests from the National Breed Club:
Hip Evaluation
Elbow Evaluation
Ophthalmologist Evaluation
Cardiac Exam